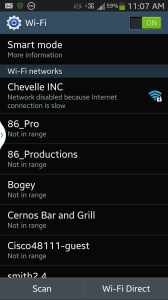 For the last few weeks since my update to 4.3 on my Galaxy S4,  I have been receiving the following error: Network Disabled because the Internet Connection is Slow.
This error has been driving me nuts and I FINALLY figured out how to fix this error. I will go through the step by step procedure with screenshots.
First off, go to your Wi-Fi settings.  At the Wi-Fi page, press the menu button and click on the advance tab.  Scroll down until you see "Always allow scanning" and "Auto network switch".  In my case, the boxes were checked.  Make sure the boxes are unchecked.  Now this issue is fixed!!!  Any questions?
Andrew